E3 2012
Published on June 12th, 2012 | by Andrew
E3 Debrief – Injustice: Gods Among Us
Even with its limited game modes, I thoroughly enjoyed Mortal Kombat vs. DC Universe.  Granted, I'm a  DC fanboy, but the game provided an interesting, comic book story as well as a solid MK-inspired fighting engine.  The 2008 crossover was received well enough, but Mortal Kombat purists criticized the game's T-rating and its lack of gratuitous gore.  With NetherRealm's exceptionally violent 2011 reboot, Mortal Kombat, any chance of a superhero successor seemed slim at best.  However, in a surprise announcement from Warner Bros. Games, Batman and Superman enter the ring once more. Only this time, our heroes take off their MK training wheels.
Make no mistake. Injustice: Gods Among Us is being developed by the fighting game gurus famous for the renowned Mortal Kombat series, but this is a new game all its own. Don't expect fatalities, X-rays, or dismembering.  Instead, gamers can look forward to new innovations and fighting mechanics that are sure to stand out in the genre.
Fighting games have placed warriors in some awesome environments.  However, aesthetics aside, it never really mattered where the bouts took place.  With Injustice, the battleground becomes just as important as the character you choose.  A shiny red button found in the Batcave fires missiles from the Batmobile, while enemies can be thrown through AND on top of the skyscrapers of the tentatively titled "Future City" (story hint?).
Fighters will react to their environment, but the environments will also react to you.  Debris falls and buildings crumble as the super-powered fighters go toe-to-toe. In a fight shown between Superman and the Flash within the Batcave, rocks fell from the ceiling every time a major blow was landed. Finally, the audience grimaces as we see a boulder crush the car… yes. That car.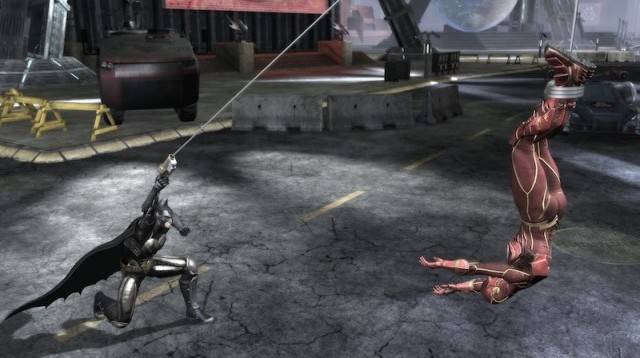 NetherRealm remains tight-lipped on the story, but they've confirmed six fighters so far: Superman, Batman, The Flash, Wonder Woman, Solomon Grundy, and Harley Quinn.  A quick pause in the announcement trailer, however, hints at an armor-clad Lex Luthor joining the fray as well.
During the demo I witnessed at E3, I got a quick glimpse of Injustice's unfinished character selection screen.  While only the six confirmed fighters showed their faces, I was able to count 24 spots total; that's 18 slots currently without a portrait. Obviously, this number is subject to change, but I'm excited to see which characters will be playable  in the game.  After all, Grundy and Quinn are hardly A-listers, so I'm hoping to see some great characters pulled out of obscurity for this – without sacrificing our mainstays, of course. Red Hood anyone?
DC has granted the studio plenty of artistic liberty regarding our heroes' appearance, providing a grittier re-imagination of the characters we thought we knew.  And the graphics certainly do the design justice (no pun intended).  Using their "wrinkle tech," NetherRealm has created exceptionally detailed character models and impressive lighting effects, leaving wrinkled costumes, reflecting armor, and writhing facial expressions.
It's still early, but I'm beyond excited for this game. Who would you like to see make an appearance? E-mail us your 24-character roster for a chance to win an E3-exclusive Injustice T-shirt – email@pixelegends.com
Fly high, legends.