Review
Published on April 30th, 2013 | by Ricardo
2
Review: Injustice: Gods Among Us
Superheroes are no strangers to the fighting game arena.
Whether it was Capcom's excellent X-Men: Children of the Atom from 1994 or the horrendous Justice League Task Force in 1995 (featuring mulleted Superman), comic book characters just seem to want to fight. However, it's been awhile since these heroes had the spotlight all to themselves – free from the shackles of the Vs. title.
Not any longer. A new superhero-themed fighter has smashed onto consoles more with more impact than Bane's knee smashing through Batman's spine.
Injustice: Gods Among Us, the fighting game from Netherrealm Studios, takes the best elements from 2011's stellar Mortal Kombat reboot and gives them a nice new coat of DC Comics paint. Don't think of Injustice as just a reskin though, and definitely don't think of it in the same vein as Midway's Mortal Kombat vs. DC Universe.
No, this is a completely different beast; both sleeker and more bullish than its predecessors.
Injustice sees players going into battle with one of a roster of 20 DC characters. All characters are unlocked at the beginning of the game, letting those competitive-minded fighters get into the lab quickly and start learning the ins-and-outs.
Some of these choices are obvious; Superman, Batman and Wonder Woman are of course here alongside other Justice League stalwarts like Flash and Green Lantern. Cult favorites like Deathstroke and Cyborg also make the cut to flesh out the roster with a bit more variety and while there are a few choices that might leave even comic book fans scratching their head (just what is Killer Frost doing here, again?), the default Injustice roster is likely to please no matter what part of the DC Universe you inhabit.
Injustice features the same deliberate, yet responsive fighting system as MK. With only three real attack buttons, newbies can easily get into a game and start linking combos up with special moves, eventually learning the finer points of fighting game theory and mechanics. Even supermoves only require two buttons to execute, and the ease of use combined with the bonkers animations that accompany them – animations like seeing Aquaman skewering opponents with a trident and feeding them to a shark – make Injustice a riot to play with a large group.
As for experienced fighters, Injustice also has MK's same free-wheeling juggling and cancelling systems that beg for further experimentation. A quick YouTube search reveals some of the completely crazy moves players have already started to cook up.
But Injustice flips the script in a lot of ways that both "work" in the game's greater fighting system, but also might frustrate some purists out there.
First, every character is given a superpower that can be activated with a single button. These superpowers can be as simple as firing off an arrow with Green Arrow or entering a slow-motion speed force haze with the Flash. These again combine the elegant combination of accessibility and depth; being immediately intuitive to use and also easily manipulated to fit into a much more complex fighting style.
Ramping up this concept is Injustice's "Clash" system. Players that fall behind in a match can essentially "gamble" some of their super meter for a chance to get back into the fight. These cinematic match interludes actually have a very strategic use.
Lastly, one of Injustice's most immediately recognizable differentiations from the static, almost clinical 2D fighters it rubs elbows with is how characters can interact with the each stage. Every fighting arena has several "hazards" that a fighter can take advantage of to do some serious (often unblockable) damage to their foe.
For example, in the Metropolis stage, a hover car floats above the stage. Super strong characters like Superman or Bane will leap up and yank the car out of the sky and smash it over a hapless opponent's head. Batman can rig the car to explode (with similar results). The Flash will leap up and bounce back down off the car in a high-speed dive kick. These all have strategic uses, and again new players will have tons of fun just grabbing stuff out of the levels and hurling it around.
However, one shouldn't be surprised if more traditional fighting game fans request to take these wild variables off – a feature Injustice so graciously provides.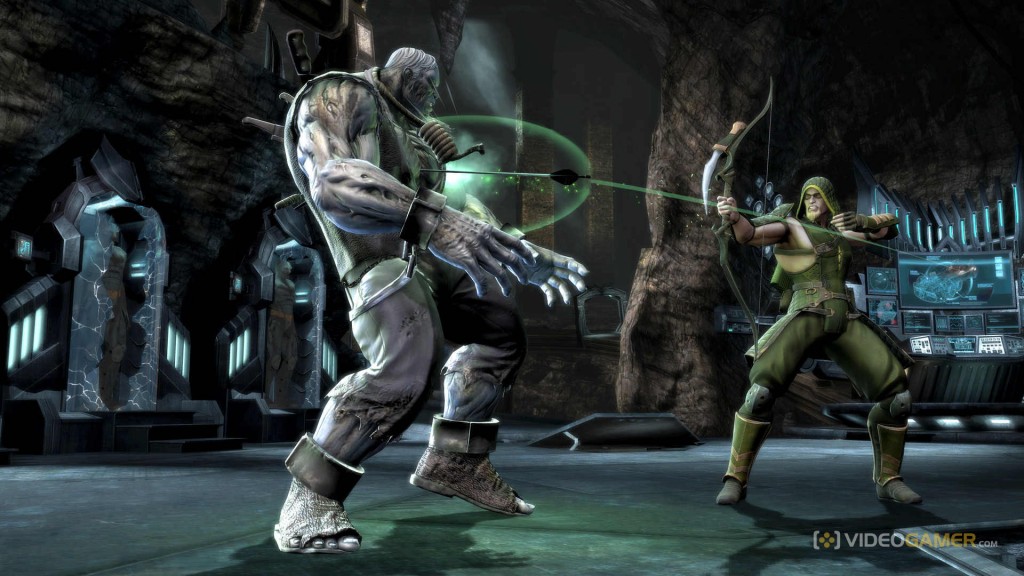 Injustice also allows players to turn off its wild stage transitions. When one reaches the edge of a stage in Injustice, a simple wall bounce attack might send a fighter hurtling through a skyscraper or through a Boom Tube into Darkseid's throne room on Apokolips, essentially changing the venue and complexion of the fight going forward.
They're good fun to be sure, and give the game a unique edge, but these transitions also deal a ton of unblockable damage to the opponent; a strategic consideration, maybe, but more likely an annoyance to sticklers.
Again, the Injustice fighting system is filled with that kind of dichotomy; being both one of the most beautifully balanced and accessible fighters of any generation, but also throwing a bit too many goofy ideas out there for its own good.
Despite these anomalies, the mode suite in Injustice is fairly standard for a modern fighter. Besides the typical versus and arcade ladder modes offline, there are ranked, unranked and quarter match modes online to test your mettle against players from a wide swath of skill levels. At review time, Injustice was working extremely well online, with only a handful of matches experiencing significant lag.
Now if only people would stop only cheesing as Deathstroke online.
Like Mortal Kombat before it, there's also a brace of mini-game missions to try out if you want some variety. These range from dumb to dumber, but they're all fun enough little distractions. Furthermore, the points you rack up here and in every other mode in Injustice go towards a persistent leveling system. This "rank" lets you and (more importantly) others know just how long you've been playing; steadily rewarding you with new icons and backgrounds for your online profile and doling you out "Armory Keys" that let you unlock more content in the game's archives.
Last, but definitely not least, is Injustice's Story Mode. Story in a fighting game has never been the impetus for playing, but as Netherrealm's previous entrant had quite an impressive little story to delve into, it'd be reasonable to assume Injustice would as well – especially given the deep subject matter.
In an alternate DC universe, the Joker has set a nuke off in Metropolis and drugged Superman into killing his wife and unborn child. This loss of all he holds dear finally sends Superman off the deep end and he kills the malevolent clown in cold blood. Determined to keep everyone "safe," Superman instills a totalitarian regime where he holds absolute power and any hero that disagrees ends up on the wrong end of the Kryptonian's heat vision.
It's a nice little set-up and one that leads to the kind of comic book goofiness you probably came to Injustice for – even delving into some pretty grim territory. You'll fight through a number of chapters covering a good chunk of the roster and, while not all plot developments and big "dramatic" turns are winners, there's enough superhero derring do to satisfy; much of that due to the excellent score and voice work.
That pretty much sums up Injustice: Gods Among Us in a nutshell. It feels like a game that came from people who love both comics and fighting games (undoubtedly true of the team at Netherrealm) and are willing to experiment with the ideals of both.
And while not every experimentation works out completely, those looking for a fun smash-up or a new fighter to master will find everything they're looking for in this super-powered package.

FUN 5/5
Just try not to let out an involuntary squeal the first time you peep one of the supermoves
STYLE 4/5
While the chunky Mortal Kombat style can look awkward at times, the costume re-imaginings and interactive levels look great
CONTEXT 5/5
Plays to its theme at every opportunity. Comic fans will love the myriad of references
CHALLENGE 4/5
The single player modes can be powered through with enough due diligence. If you want to compete online, however, then you better spend some time in the dojo